Badoo Cult: Lagos Police destroy 6 Shrines, rescue Couple | WATCH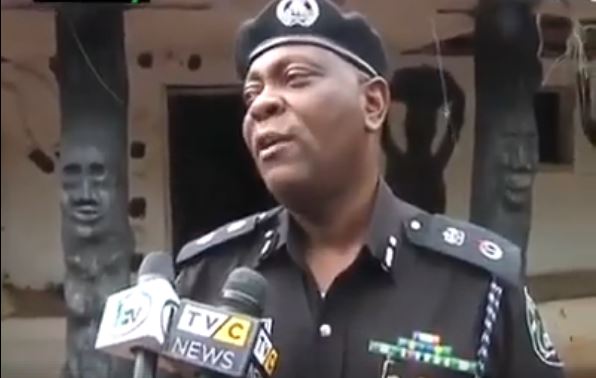 The Lagos State Police has destroyed 6 shrines in Agbowa area of Ikorodu, in connection with the Badoo cult killings.
The Lagos State acting Police Commissioner Edgal Imohimi led a team of policemen and reporters, as a suspect who claimed to be a native doctor was arrested, Punch reports.
The Lagos State Police Public Relations Officer, Olarinde Famous-Cole said the shrines are used for rituals and fraudulent activities. He said:
We discovered about five shrines, which have been destroyed. We got information about the shrines from some members of the public. The shrines were located in the Agbowa area of Ikorodu, Lagos State.

The operation was led by the Commissioner of Police, Edgal Imohimi.

Other agencies like the Department of Department of State Services, policemen from the task force, as well as members of the local vigilance group, assisted the police in the task.

For now, we know that the shrines were for ritual and fraudulent activities.
The Commissioner, Imohimi, added that a couple was rescued during the raid.
He said the police had the backing of traditional rulers. He added that most victims of "one chance" buses in the area ended up in the shrines, and were used for ritual purposes. He said:
We had the backing of all the traditional rulers in Ikorodu to demolish individually owned shrines that are used to perpetrate crime.

Some of those shrines are used for ritual purposes. Others were established by fraudsters with the intent to commit a crime.

So, these six we have demolished were identified as a result of the police and community partnership. We received information from members of the community and we carried out our own findings too.

I can tell you that as of Tuesday night when we were still surveying the places, a husband and wife were rescued in one of the shrines. They fell victim and they had been told they would be killed. They were very grateful when the police came to their aid.

We have arrested an owner. I use this opportunity to appeal to the public to have confidence in the police. They should provide us with valuable information that would lead to the rounding up of all those criminals.

I want to still assure them that under my watch, their confidentiality is guaranteed. No one would know information came from them. Just as we have gotten these ones, we will get all others and rid Lagos of such criminals.
See the raid below: